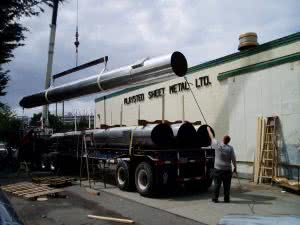 Playsted Sheet Metal Ltd. has been a fixture in the Victoria construction industry since 1965 when Herb Playsted first opened shop in Victoria, BC.  The company moved to the current Esquimalt location in 1972, where it has been under the direction of owner and President, Chris Playsted since 1980. Playsted Sheet Metal typically employs 20-25 full time Journeyman Sheet Metal Mechanics and Apprentices for shop fabrication and HVAC installation.  By creating a positive work environment, with an emphasis on quality, safety and efficiency, we are able to hire and retain the best sheet metal workers on southern Vancouver Island.  We have 8 Foremen who are qualified to run million dollar projects, and a team of estimators who are all licensed Journeymen with at least 20 years of experience in the sheet metal industry.  With this much experience comes the ability to successfully take on many different types of projects.  So whether you are looking at a smaller commercial renovation project that requires design consultation or a multi-million dollar bonded project, Playsted Sheet Metal can meet your needs.
Our Quality Commitment
Playsted Sheet Metal Ltd. is built on three generations of experience and innovation. ISO 9001:2008 Registration is proof of our commitment to excellent customer service, and continued quality assurance to our sheet m
etal clients and associates.  Along with ISO Registration is our pledge to continually pursue advancements within our business and the industry.  This commitment ensures our clients receive cutting edge technology, exemplary service and quality installations with each and every contract.
Our Safety Commitment
Playsted Sheet Metal Ltd. has been awarded COR Certification by the BC Construction Safety Alliance for both Health and Safety and Injury Management. 
As a WorksafeBC COR Certified company, commitment to health and safety is an integral part of our organization.  Both the management and employees are dedicated to creating a safe workplace and the continuing objective of reducing injuries at the shop and at the many job sites where we work.
Office Staff
Chris Playsted – President
Eric Ulrich – Operations Manager
Darrell Cairns – Senior Estimator
Cam Crowhurst – Estimator/Project Manager
Brett Jones – Estimator/Project Manager
Don Sigurdson – Shop Foreman
Jason Bentley – Defence Programs Coordinator
Sandi Playsted – Office Manager
Ireena Nieuwenhuis – Office Administrator
Else Elphick – Office Administrator